Stoner Holsters Ankle Holster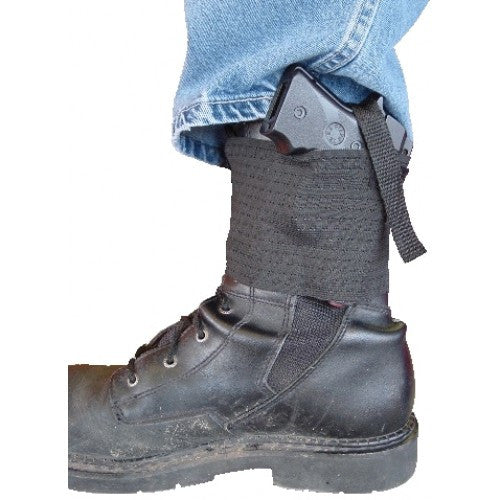 Stoner Ankle Holster
The Ankle Holster by Stoner Holsters is the lowest profile ankle holster on the market. Using breathable elastic for tension, this ankle holster can hold almost any sized semi-auto or revolver. The unique design of the Ankle Holster has 2 pockets sewn right into the elastic, eliminating the need for additional material to secure the firearm. This creates a very concealable and secure way to carry your weapon.
Ankle Holster features:
Safety strap to firmly secure your firearm
Breathable material suitable for all day carry
Available in right or left handed designs
unique dual pocket design allows the same holster to fit a very large range of weapons
Anti-Skid pad is attached behind the weapon to prevent the holster from moving
Thin design makes this ankle holster the lowest profile on the market
Proudly made in the USA
Try our new leather body shield. This removable leather body shield is to be worn with your ankle holster. The insert has been designed to provide comfort between you and your weapon. It slides into the larger pocket of the holster and will help to protect you from any protruding or rough points on your gun as well as keep some sweat and oil from getting on your weapon.
Available in Black