Stoner ACE Belt Slide Concealed Carry Holster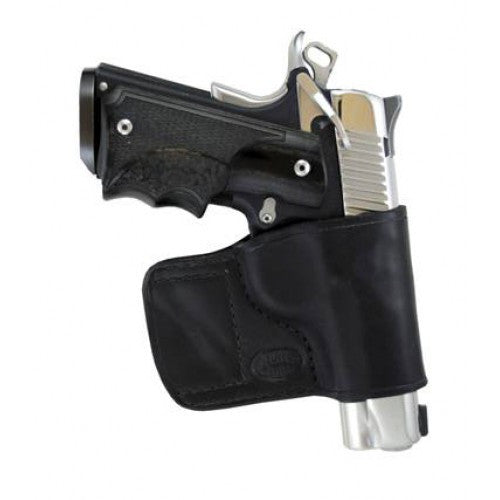 Stoner ACE holster
The ACE Holster made by Stoner Holsters is a Belt Slide Holster designed for concealed carry. Each ACE holster is custom made for your gun's make and model. We allow the barrel to extend past the end of the holster which allows 1 holster to fit many guns of the same frame, but different barrel lengths. If you have a 3", 4", and 5" 1911, all of them will fit into the same ACE Holster. The belt slots allow for up to 1 3/4" belt, and may be carried Strong Side, or Crossdraw with no cant.
The ACE Holster features:
Custom designed for your gun's make and model. 
Fits many barrel lengths of the same framed gun
Combat Grip accessible while your gun is holstered
The Holster will contour to your body, making it comfortable and suitable for all day concealed carry
Hugs the gun close to your body for better concealment
Made of Premium Veg-Tanned cowhide leather
Guarenteed for the life of the holster from any manufacturing defects
Proudly made in the USA
The ACE Holster is available in Black and Havana Brown. These can be made in right and left handed designs.